The Stuart Semple Show delves into different industries to bring you the latest insights from leading creative minds. In episode 8, host Stuart Semple invites socially driven architect Maddie Kessler to talk about her recent British Pavilion project.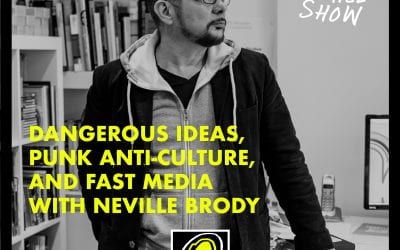 This episode is a true treat for the typographists. Famed designer Neville Brody joins host Stuart Semple to talk about The Face magazine, his Riot collaboration with Supreme, and his humble beginnings.
The Stuart Semple Show art podcast is back with another intimate hour of conversation. In this episode, Stuart speaks to ex-model and television personality Gail Porter.
THE STUART SEMPLE SHOW PODCAST
Hello everyone! Welcome to my podcast 🙂
Hi guys, Stuart Semple here! I'm about to launch a brand new art podcast. I've been making work my whole life and I've been in the art world for 20 odd years and I've seen some amazing things and met some incredible people! 
Conversation and discussion are so important to help us feel connected and inspired, so I thought a good thing to do would be to invite on some of the world's most wonderful humans so that you can be a fly-on-the-wall and listen in as we chat about all sorts! Hopefully, it'll inspire you with your own work and creativity. 
I really believe your creative voice and what you need and have to share with the world can make the world a better place. 
It's going to be an awful lot of fun so join me every week. If you want to hear the episodes before anybody else, please subscribe on whatever your favourite platform is. 
I can't wait to share this with you!